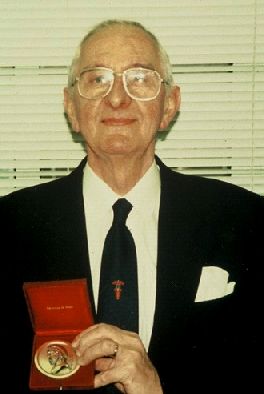 Dr Peter George Sargeaunt - a personal reflection
I first met Peter in 1975, when I joined what was then the Department of Medical Protozoology at the London School of Hygiene and Tropical Medicine. He was the Senior Chief Medical Laboratory Technician responsible for all the technical staff, departmental budgets, practical teaching and the diagnostic work of the department. I was a Senior Technical Officer in a small research group working on the isoenzymes of trypanosomes and I had not been there long when he asked me to pop in to his office for few minutes; minutes which were to have a profound effect on my career and begin a long and never dull friendship. However, the chat started with what I soon came to know as Peter's frank and honest approach to everything. He pointedly told me that he expected all technical staff, research or otherwise, to play their part in the teaching and general work of the department and that meant me! Later he asked if the isoenzyme technique I was using would work with amoebae, I said we could try and we found that it did. This led to what was to become a revolutionary re-think on the speciation of Entamoeba histolytica and to the name Sargeaunt becoming known world wide by those working in amoebiasis and tropical medicine.
Peter's interest in E. histolytica had started in his early career as a Chief Medical Laboratory Technician at the Dreadnought Seaman's Hospital in Greenwich, London. The hospital provided diagnosis and treatment for the many merchant seamen using the then busy London docks. With his pathologist, Dr G L Robinson, Peter was involved in the development of diagnostic methods for amoebiasis which was a major medical problem in those coming from the tropics. During this time he developed a specific stain for Entamoeba cysts and 'Sergeaunt's stain' is still used today in diagnostic laboratories throughout the world. He also developed an interest in the culture of amoebae and with Dr Robinson developed what is still considered one of the best culture methods for the isolation of Entamoeba spp. His love of his time at the Seaman's hospital and his regard for Dr Robinson were enduring, and stayed with him throughout the time I knew him.
Once at the LSHTM, Peter showed that not only was he an excellent laboratory diagnostician but he was an equally brilliant practical teacher who could hold a large mixed group of students enthralled with his explanations of parasite pathology and morphology. This together with a dry sense of humour made him popular and long remembered by those he taught. If I have any talent as a teacher it was gained in those early days in the practical laboratory with Peter.
The work on the isoenzymes of E. histolytica started in 1976 and continued until his retirement in 1989 and his publication list, which continued to grow after retirement, numbers well over 60 papers. During this period he travelled to and worked in many different countries of the world and wherever he went he made lasting friends, many of whom he kept in touch with after retirement and who were often guests at his home when they visited the UK. To be a friend of Peter's was to be a friend for life. Throughout this time he was supported and encouraged by his wife Trixie, who was also his travelling companion and unpaid secretary and to whom he was absolutely devoted. To be invited to one of their dinner parties was a real treat as Trixie was an excellent cook and Peter a most attentive and convivial host.
In the early years of the research it was only Peter's tireless energy and perseverance that pushed the work forward. For many years his assertion that there were invasive and non-invasive forms of E. histolytica was not generally accepted by the scientific establishment. Later he believed that the work of the French scientist Emile Brumpt in the early part of the twentieth century, which suggested that E. histolytica was in fact two distinct but morphologically identical taxonomic entities was correct. This was finally confirmed in the early 1990s when Graham Clark and Louis Diamond showed genetically that this was true. The publication in 1993 by Diamond and Clark of a taxonomic redescription of E. histolytica, adopting the suggestion made by Peter that the name E. histolytica be kept for the pathogen and that Brumpt's name of E. dispar be used for the non-pathogen, finally ended 15 often turbulent years, through which Peter's resolve never wavered.
Peter was a man of many other talents and boundless energy. One of his many passions was for woodwork; his projects ranged from the making of a 10 metre boat in his back garden (it had to be craned over the house to get it out!) to the most exquisite fine furniture such as tables and writing desks, often using recovered teak from old laboratory benches. He was also a great lover of French food and French wine and he and Trixie made regular trips to France, where of course they made many friends. It is perhaps fitting that Peter's greatest recognition for his work was made by the French in 1994, when he was awarded the Emile Brumpt Prize for Medicine in recognition of his works contributing to the understanding of amoebiasis. This is an honour which until then had only been bestowed on two other British Scientists, Professor Sir Philip Manson-Bahr and Professor P. C. C. Garnham; truly a great honour of which he was immensely proud.
In retirement he continued with his interest in amoebiasis, travelling regularly by invitation to other countries to give talks and even managing to fit in a PhD which he received at the grand age of 80. Always a dedicated family man he continued a very close relationship with his daughters Janice and Sally and his grandchildren; he was immensely proud of all of them. For me, Peter will always be an example of what can be achieved by the application of enthusiasm, perseverance and an unerring belief in what is right. I take it as an honour that I shared in his work on amoebiasis and more so that he counted me as a one of his many friends.
John Williams
Department of Infectious and Tropical Diseases
LSHTM
---
Back to the Entamoeba Homepage